I'm so excited to announce that I have officially made my "Weekend Update" a blog-hop with the help of my dear blogging friend (and possibly distant relative), Char from
Char|Treuth
!
This is a great way to connect with some new ladies and build community here in the blog-world. It's super simple, so "hop" right in and join us!
Now, here's a recap of my fun-filled weekend!
Friday -
To celebrate my last day of nannying (for the summer) Dave and I went to a delicious Lebanese family-owned
restaurant
(and got to use a gift card gifted to us from the family I nanny for - aka FREE DINNER!) We both love to eat and we're both of Mediterranean/Middle Eastern decent, so when we find a good place like this, it feels like home and we just eat it up! (Pun intended.)
I wanted so badly to take some photos of our wonderful spread of freshly made hummus, grape leaves, shish kabobs, and more, but it was a very small, very intimate restaurant, and it just didn't seem appropriate. So re-read that list of scrumptious dishes and just use your imagination
ツ
Saturday -
I started off the day with a run (who am I!?) and then I worked until six.
It was pretty crazy at first since we're having an incredible
tag sale
but fun and pleasant as usual.
Then Dave and I went food shopping and rented two movies from Redbox. TWO!
I don't know what we were thinking since we're basically senior citizens and can't stay up past 12am, but we watched the first, Guilt Trip, and it was awesome!
One of the best parts about this film is that the mother-character is an exact replica of my mom.
I'm pretty sure someone from Hollywood must have been filming our interactions together, because it is her, to a tee, and I loved it!
We also snuck out of our apartment before bed to see the Super Moon (it was SO bright!)
I must say I prefer Harvest Moons, but this one was still nice to look at... and attempt to photograph (...with my iPhone.)
Sunday -
Church was wonderful, as always, and then watched our second movie, Silver Linings Playbook, which was also really awesome!
Another thing that was awesome was the brunch we made:
A super tasty version of home fries
We ended our evening with a gender reveal part hosted by our two lovely friends, W&L. We enjoyed some delicious BBQ, homemade salads, sweet desserts, and found out that they're having a baby BOY!
We are so excited for them and all that their future holds! (Also, we can't wait to have a cute little baby to play with at our couples dinners!)

Make sure to link-up so I can read about all the great things that you filled your weekend with!
-N

Grab a button!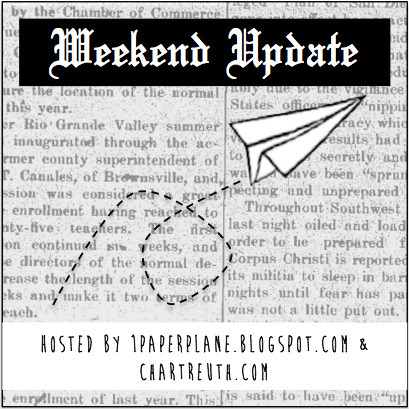 <center><a href="http://1paperplane.blogspot.com/2013/06/weekend-update-now-blog-hop.html"target=_blank"><img src="http://i1352.photobucket.com/albums/q657/charchrissan/WeekendUpdateIcon_zpsc68dff44.png" "height"= 200px "width" = 200px title="Weekend Update" /></a></center>